Berlin Brandenburg Airport (Flughafen Berlin Brandenburg "Willy Brandt", BER)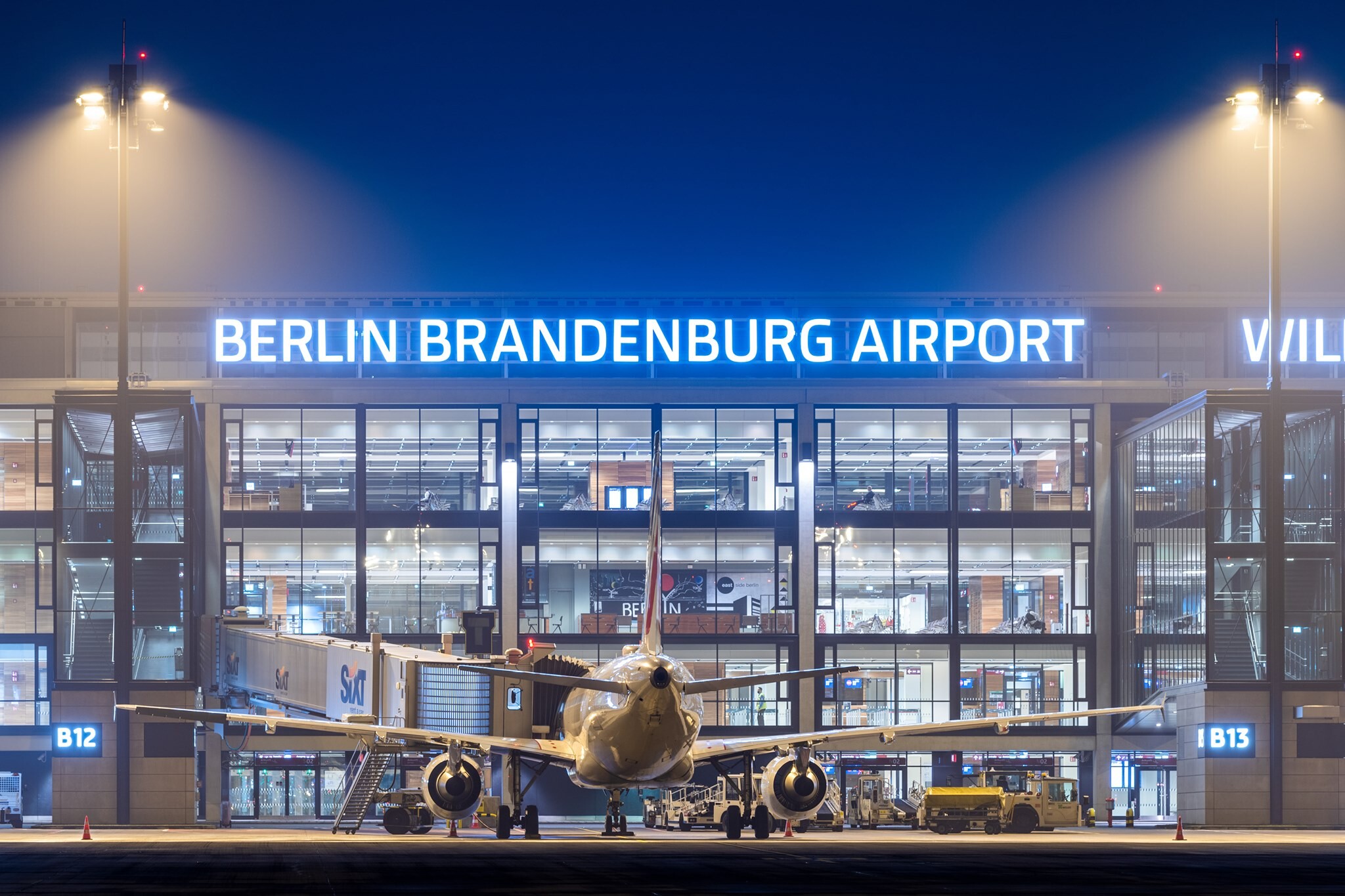 Berlin's new airport opened on 31 October 2020 and replaced two air harbours at once — Tegel (Flughafen Berlin-Tegel) and Schönefeld (Flughafen Berlin-Schönefeld). The latter became one of the terminals. Construction of Berlin-Brandenburg airport began in 2006. Then the ambitious project was presented by the famous officials who promised to finish the complex in 2011. But the construction was very delayed, the opening was postponed five times, and the new hub was notorious for being a long-lasting project. The work was not completed until 14 years later. The airport terminal was named after the fourth Chancellor of Germany — Willy Brandt. Today the airport Berlin-Brandenburg is the main air gateway of the German capital. It can handle more than 40 million passengers a year.
The official website of Berlin-Brandenburg Airport provides an arrivals and departures display with up-to-date flight information. Information is available for the next three days. Website of the airline harbor is partially russified, but most of the data is still published in English. There are about a hundred airlines cooperating with the new Berlin airport. Among them are well-known European carriers — easyJet, Air France, Alitalia, Wizz Air, Germanwings, Lufthansa, Russian carriers — Aeroflot, Pobeda, Nordwind, Rusline, S7 Airlines and many others.
Check in for your flight
Berlin-Brandenburg Airport offers several ways to check in for your flight: regular check-in at an airline employee's counter, online check-in via an app or website, and check-in at a self-service kiosk. In all cases, passengers are advised to arrive at the airport at least 2 hours before departure, especially if they have luggage. When purchasing your ticket, please check the check-in requirements for your airline. In some cases you may have to pay a fee to check in at the airport. You can check in online or at a self-service check-in kiosk free of charge.
Diagram of the airport
A total of three terminals are open at Berlin-Brandenburg Airport: T1 is the main terminal for EU, domestic and international flights, T2 and T5 are reserved for low-cost airlines. However, due to a decline in passenger traffic caused by the pandemic, all flights have so far been moved to terminal T1. Two more terminals, T3 and T4, are planned for the future. They will enable a significant increase in passenger traffic and the distribution of flights.
Infrastructure
As far as infrastructure is concerned, Berlin-Brandenburg Airport has everything you need to brighten up your wait. Each terminal has shops, cafés, newsagents, souvenir shops, currency exchange, tourist information centres, etc. A Tax Free refund point is located in the T5 terminal (zone L). Free Wi-Fi access is available everywhere. The T1 terminal has an observation deck with a view of the runway and a free exhibition on the history of aviation and the new airport. There are also unusual art objects in the halls of the air terminal: a red sculpture of a "flying carpet" at the check-in desks and a floor with embedded coins in the arrival hall. There are three different star hotels located near the airport terminal. Rooms cost from 64 euros per night.
How to get there
Berlin-Brandenburg Airport is located 28 km south of Berlin. The new harbour has been given excellent transport links to the capital, and the road infrastructure of Schönefeld Airport has also been preserved. Passengers can easily reach Berlin and other German cities by train, bus and car. The FEX express train and regional trains RE7 and RB14 run between Berlin Central Station and the airport up to 4 times an hour. You should buy your ticket at the "Flughafen BER-Terminal 1-2" station, which is located directly under the T1 terminal. Alternatively, you can take the S9 and S45 high-speed trains, which leave every 20 minutes, or the BER T1-2 intercity train from Rostock to Dresden, which runs several times a day. Please note that only the S9 and S45 trains run to the T5 terminal. If you get on the wrong train by mistake, you will need to change at the "Flughafen BER-Terminal 1-2" station. The journey from terminal T1 to T5 takes about 8 minutes. From Berlin to the air harbour it takes around 30 minutes.
The bus network is also well developed. There are several express flights from Berlin to the airport terminal:
X7 (every 5-10 minutes) and X71 (every 20 minutes) — from Rudow metro station (U7 line) to terminals T1 and T5;
BER1 — from the Steglitz City Hall stop to Terminal T1;
BER2 — from Potsdam Central Station to terminals T1 and T5.
Alternatively, you can get to the airport on the following flights:
Numbers 263, 734, 735, 736, 743, N7, N7X, N36, N60 to terminal T1 (N stands for night buses);
Numbers 163, 164, 171, 744 to terminal T5.
Most of Berlin's train stations are connected to the airport by rail. Only the main bus station and Lichtenberg station have no direct services to the airport:
the S9 (S-Bahn) runs from terminal T1 to Ostbahnhof. Get off at "Ostbahnhof" station. From there it is about 200 metres to your destination;
to Alexanderplatz train station, take the S9 (S-Bahn) or RB14 train;
to the "Zoological Garden" station ("Bahnhof Alexanderplatz") — train RB14;
to Lichtenberg railway station. First take the FEX Express to "Berlin Ostkreuz Station", then take the S7 (S-Bahn) to "Bahnhof Berlin-Lichtenberg";
to Berlin Central Bus Station. First take the FEX Express to "Gesundbrunnen" and then the S41 (S-Bahn) train to "S Messe Nord/ICC (Witzleben)". From here it is about 400 metres to the bus station.
The A113 and B96a are conveniently accessible by car from Berlin. The former leads directly to terminals T1 and T2. Travel time is from 40 minutes.
Parking
Berlin-Brandenburg Airport has more than ten parking areas of varying comfort. Almost all of them are located at terminal T1, between 100 and 500 metres away. There is only one economy car park at the T5 terminal (200 metres from the entrance). For a quick drop-off/check-in of passengers you can use the short-term "Kiss & Fly" parking area at the entrance to the airport terminal. Parking in this area is permitted for a maximum of 10 minutes.